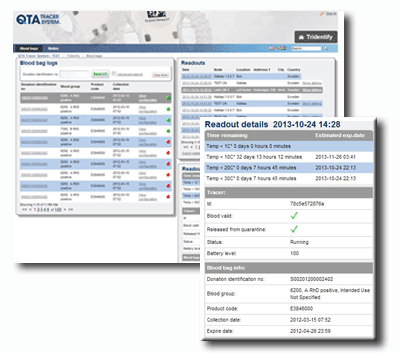 Signing in on the QTA Web Portal you will automatically be redirected to your organization's web site containing the logs from all the tracers/blood bags associated with your organization. Open detailed logs for specific blood bags, search storage for certain blood types, be alerted of blood bags near expire date, keep track of the whereabouts of every single blood bag, export logs for further analysis…
The QTA Web Portal gives you detailed information from the QTA Tracers in a user-friendly way.
QTA Web Portal *
All tracer data in one place
Search for specific blood type, specific status, specific location...
See Check-in Nodes' location on Google Maps
Warnings about blood soon to expire
Open complete temperature log for each tracer/blood bag - export logs

Find the Check-in Node's location on Google Maps.
*[Available only in Europe]